Passware SMS Subscription
Software Maintenance and Support (SMS) subscription and renewal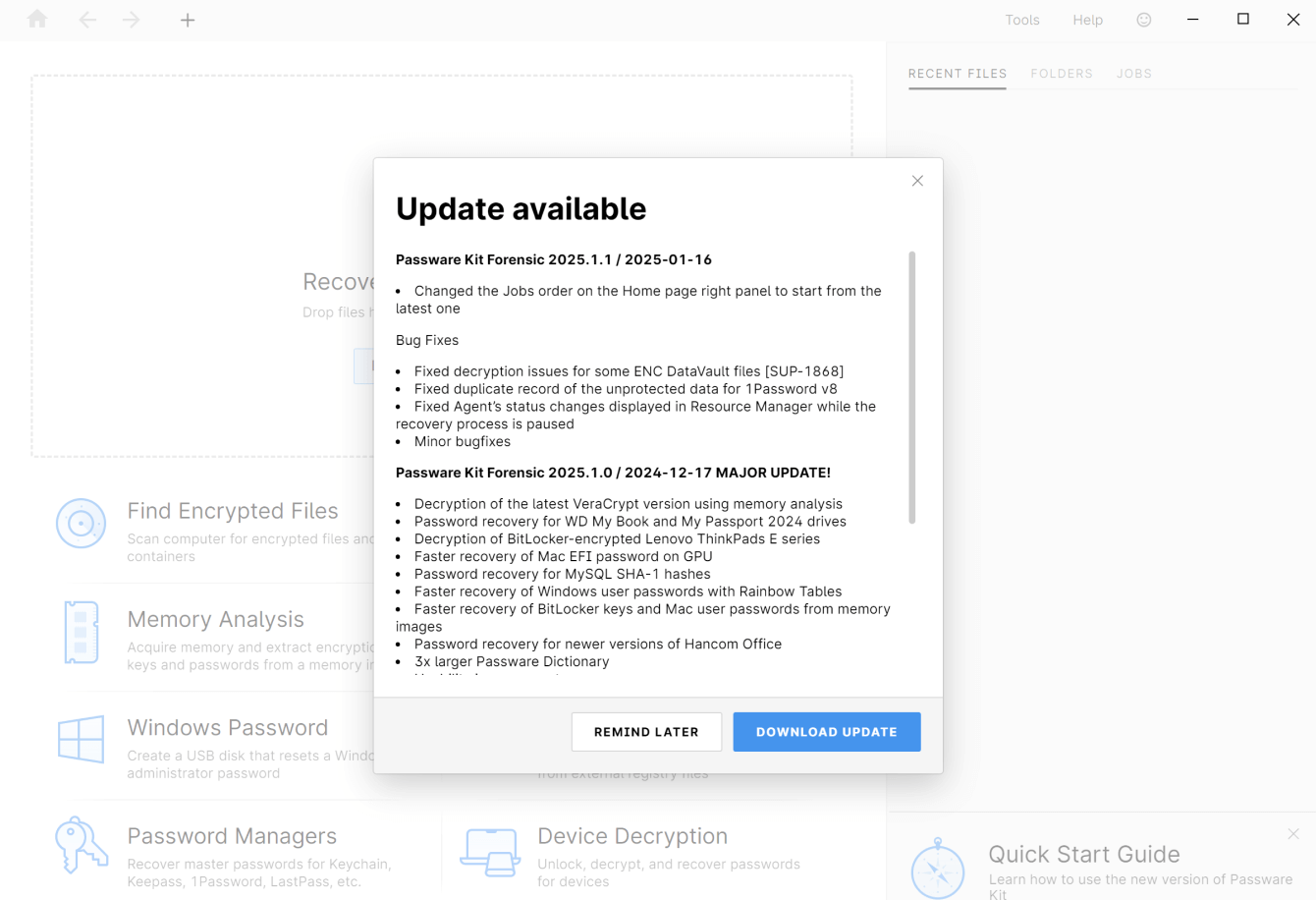 Stay current with Passware releases
All Passware Kit Business and Passware Kit Forensic orders come with a one-year Software Maintenance and Support (SMS) Subscription. New features are being added to Passware Kit on a regular basis with four major releases and multiple minor updates per year. This release cycle has been strictly followed for over 10 years.
4 major releases
per year
Four major releases per year and multiple minor updates & bug fixes.
Automatic
updates
Always up-to-date with automatic software updates.
Download
anytime
Download the software anytime you need.
Additional
dictionaries
Advanced proprietary dictionaries are available on the Passware Account page.
Save with
3-year subscription
Enjoy 3 years of worry-free access to updates, predictable software budgeting, and savings.
Customer
support
Constant access to technical support and individual request processing.
Passware SMS Subscription
The simplest way to stay current with Passware releases is to renew the SMS subscription. To renew the existing SMS, please login to your account.
Passware Kit Forensic
First year
Free
1-year renewal
$595
3-year renewal
$1,495
Passware Kit Business
First year
Free
1-year renewal
$475
3-year renewal
$1,195
Frequently asked questions
Yes. You can renew the original SMS subscription that came with your license of Passware Kit Forensic.
Yes, each license of Passware Kit Business and Passware Kit Forensic comes with a one-year SMS subscription. You will receive a Passware account login along with the software download link and product key.
The SMS subscription is normally renewed on an annual basis. Customers who have multiple SMS subscriptions can renew them for a particular number of months in order to co-term their licenses.
Customers can choose which SMS subscriptions to renew or renew them simultaneously. This does not affect the pricing.
Your Software Maintenance & Support (SMS) subscription lets you access new versions of the software when released and engage with our technical support team. After SMS expires you will not be receiving software updates and bugfixes; however, the software will continue to run normally.
When SMS subscription renewal is purchased after it has expired already, the subscription is extended for either 1 year or 3 years starting from the previous expiration date, not from the purchase date.
The Passware Kit Business subscription will be replaced with the Passware Kit Forensic subscription, maintaining the same expiration date.