Passware
Windows
Key Basic
Instant reset of Windows account passwords.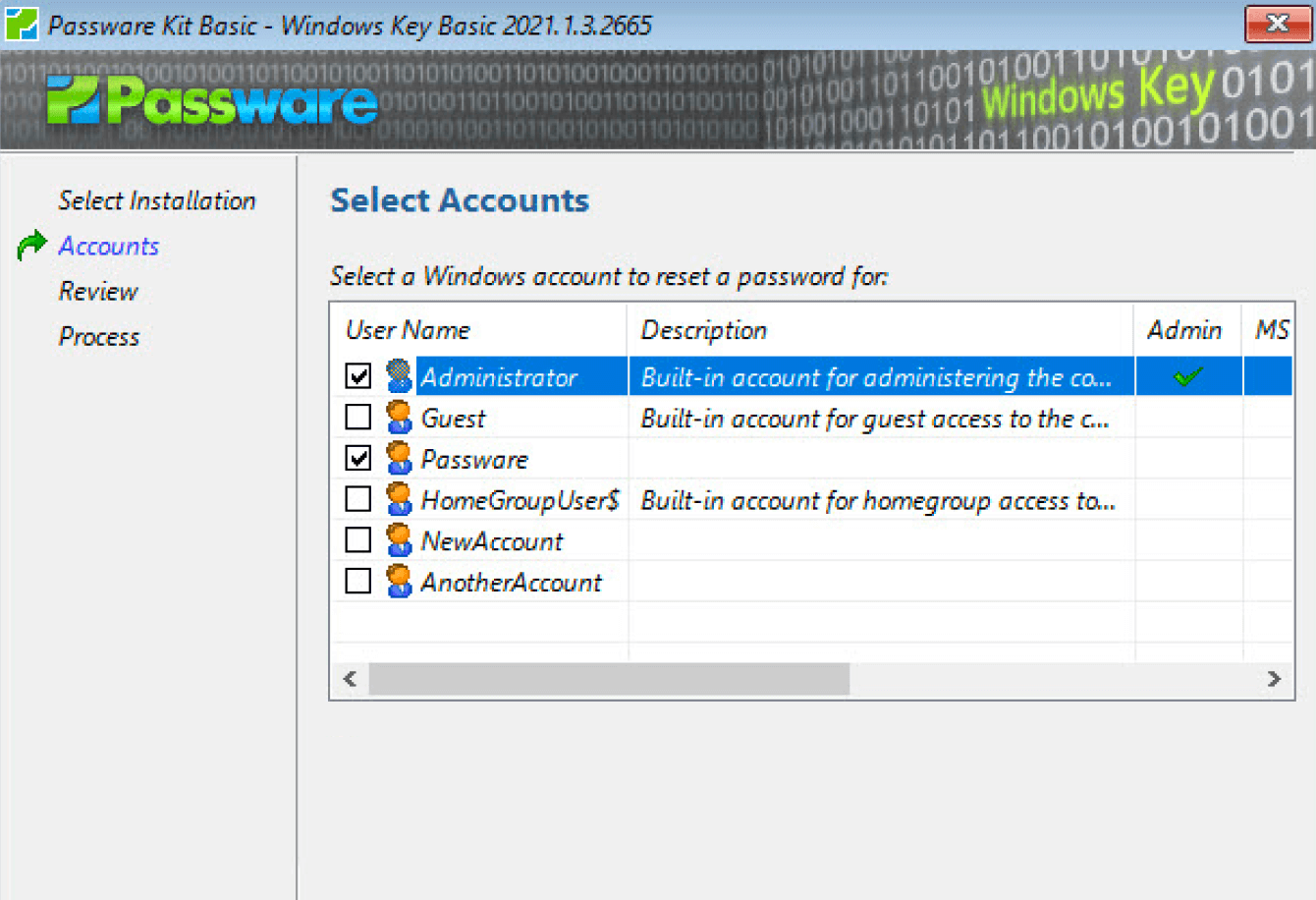 Remove Windows account passwords within minutes
Passware Windows Key Basic creates a password reset CD/USB Drive that works during the boot process and instantly resets Administrator or other account passwords and Windows security settings that prevent you from logging in.
100%
recovery rate
Windows local login passwords are removed regardless of their strength.
All passwords are reset instantly
Instant password removal during the boot process.
Resets secure boot options
Resets startup passwords and startup keys.
All Windows
Workstations
Supports all Windows Workstations, including Windows 11, Windows 10, Windows 8, Vista, and Vista SP1.
Creates a password reset disk
Burns a bootable password reset CD/USB drive or creates an ISO image.
Supports
UEFI mode
Resets passwords for Windows systems set up in the UEFI mode, including Windows 10 and 11.
Passware Windows Key Editions
Windows Key Basic


$39

Windows Key Business


$295

Resets Local Admin password

Supported

Supported

Resets other local account passwords, including Live ID

Supported

Supported

Resets Domain Administrator password

Not supported

Supported

Creates a password reset USB or CD drive

Supported

Supported

Fully supports Windows workstations (including 11, 10, 8, 7, Vista, XP, and Windows Tablet PC Edition)

Supported

Supported

Fully supports Windows Servers (including 2019, 2016, etc.)

Not supported

Supported
Common use cases
There is a need to access an old computer that hasn't been used for a while.
Employee leaves the company and his computer remains locked.
People often forget their passwords.
There is a need to access important files on a system left behind by a family member.
Our password recovery tools have been used in high profile investigations for more than 20 years. Now available for public use!
Frequently asked questions
Windows Setup CD or ISO image of the same Windows version is required to make a Windows Key password reset CD or USB drive. If you do not have a Windows Setup CD, you can request a Windows Key ISO download.
The most probable cause is that your SCSI or RAID hard-disk drive controller is not supported by the standard Windows Setup CD used to create a password reset disk. Please download additional drivers for your RAID/SCSI controller at the hardware vendor website. Specify the downloaded driver while creating a password reset ISO image file, and Windows Key will copy it on the image.
Passware provides a 30-day Money-Back Guarantee when any product does not function as advertised on the website or in help files. Customers are required to produce evidence of the problem, e.g. screenshots, sample files, etc. upon request of the Passware Customer Support representative.
Passware products that do not come with a Software and Maintenance Subscription (SMS) can be updated with a 50% discount off the original price. Minor updates with bug fixes are provided free of charge.
Professional tool. Free demo.
Download Passware Windows Key Basic free demo for Microsoft Windows. The Demo version resets a 'Demo12345' password only. This Demo version makes no changes to other passwords. All other features of Windows Key Basic are included.
View .