Passware FileMaker Key
Instant decryption of FileMaker databases.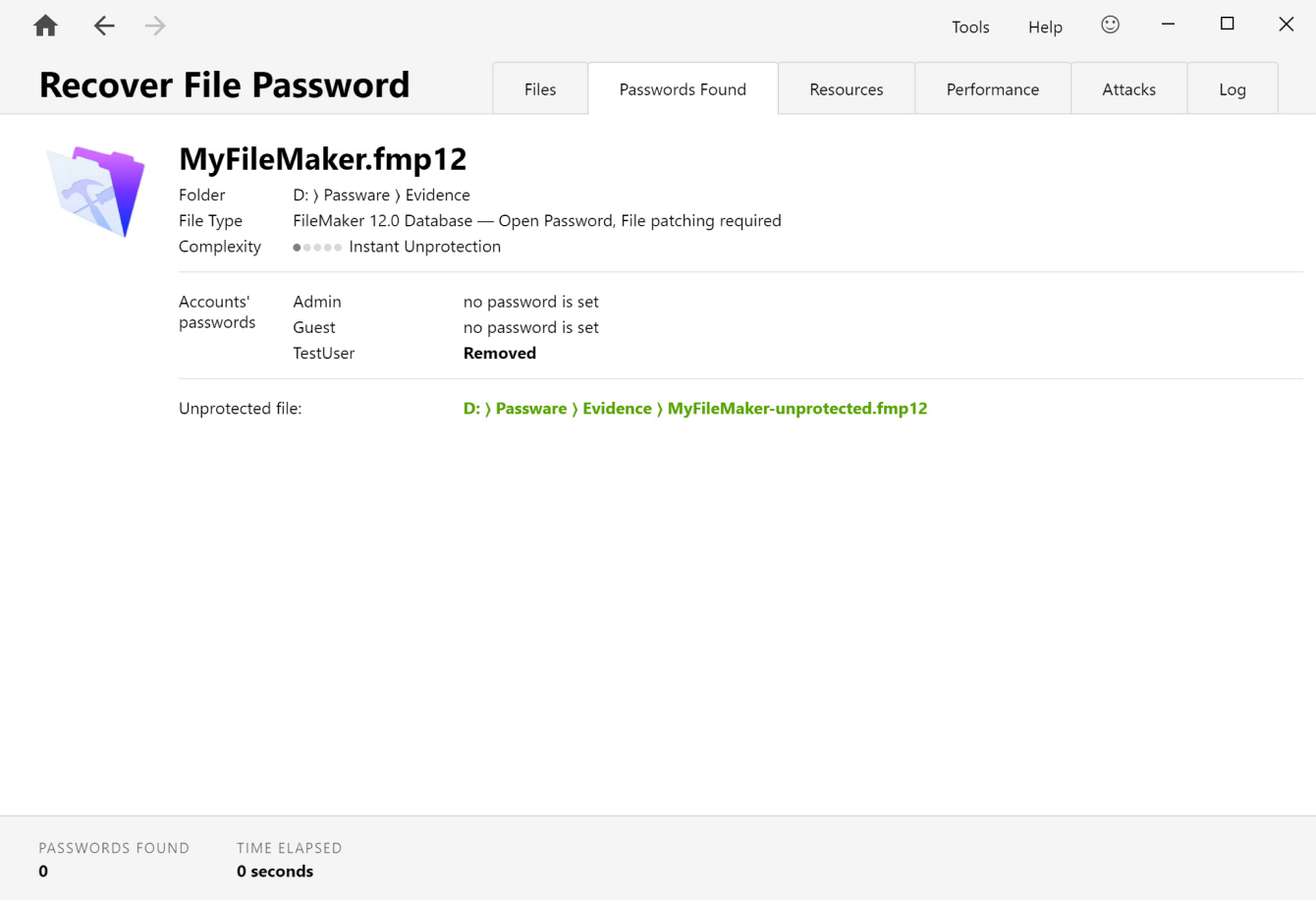 Instantly remove passwords for FileMaker databases
Passware FileMaker Key is a fast and easy-to-use solution to remove password protection from FileMaker files (.FP* and .FMP*).
Instant
unprotection
Files are unprotected instantly, regardless of passwords used.
Supports
all versions
Works with all recent versions of FileMaker, including FileMaker Pro 19.x.
Private
and secure
Your data stays private and secure. No need to upload your database.
Supports
Mac files
Files created with FileMaker on Mac are supported.
Administrative
access
Open your database as the admin user.
Easy
to use
Easy to use, install, and update. No need to set up password recovery.
Common use cases
There is a need to open an old file that hasn't been used for a while.
Employee leaves the company and many files remain protected.
People often forget their passwords.
There is a need to access important files or financial documents left behind by a family member.
Our password recovery tools have been used in high profile investigations for more than 20 years. Now available for public use!
Frequently asked questions
Starting from version 2021v4, FileMaker Key comes for both Windows and macOS. You can use the Mac version to decrypt FileMaker databases directly on Mac.
Once FileMaker Key removes password protection from a FileMaker file, it displays the account names and the path to the unprotected copy of the database. Open the unprotected copy in FileMaker and type an account name displayed by FileMaker Key. Leave the password field empty and open the document.
Passware provides a 30-day Money-Back Guarantee when any product does not function as advertised on the website or in help files. Customers are required to produce evidence of the problem, i.e. screenshots, sample files, etc. upon request of the Passware Customer Support representative.
Passware products that do not come with a Software and Maintenance Subscription (SMS) can be updated with a 50% discount off the original price. Minor updates with bug fixes are provided free of charge.
Professional tool. Free demo.
Download the Passware FileMaker Key free demo for Microsoft Windows and macOS. The Demo version recovers passwords containing no more than 3 characters.
View .